This Refrigerator Magnetic Spice Rack Organizer is Perfect for Small Kitchens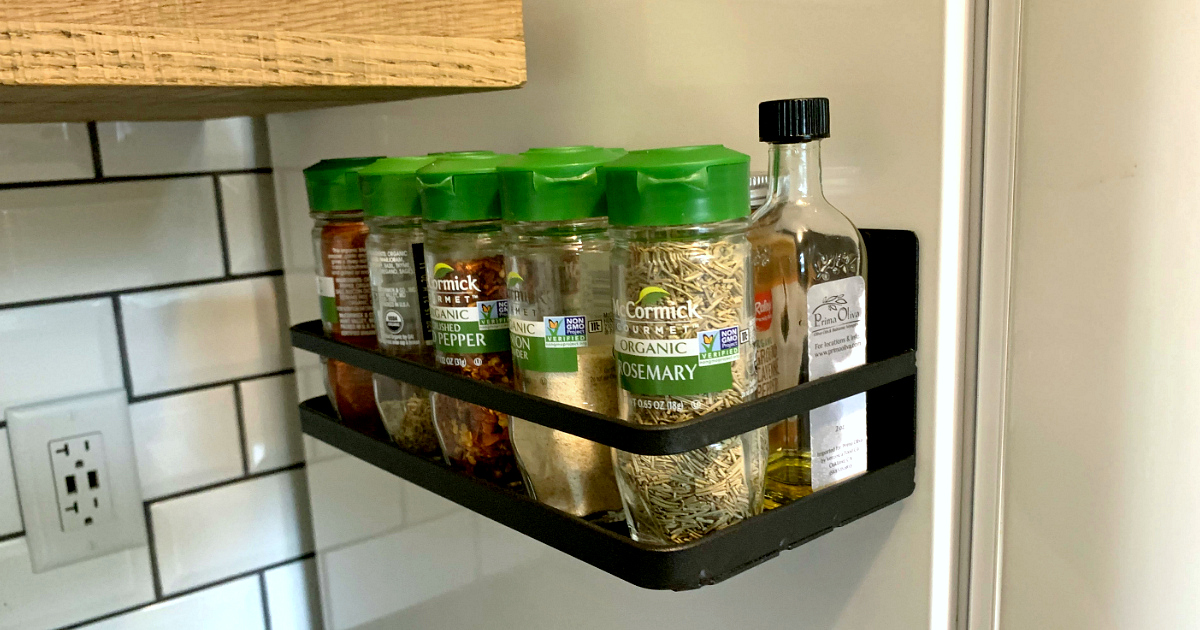 Organize your spices even if you're short on space!
If you have a small kitchen without a lot of pantry or cabinet space 🙋🏼‍♀️, you may be interested in a spice rack magnetic organizer that sticks right on your fridge. We were recently living in a very small house, and the kitchen was TINY – which really forced us to get creative!💡
So when I came across this highly-rated refrigerator spice rack magnetic organizer on Amazon, I knew I had to give it a try. I love that it fit nicely on our small fridge and kept all the spices I use for everyday cooking within reach.
Plus, it has a strong magnet on the back that can hold up to 5 pounds (I was able to fit 10 spice bottles easily inside and a small bottle of olive oil). Better yet, it's under $17 on Amazon with free Prime shipping!
Looking for something a bit bigger?
If you have room for a larger magnetic organizer, Amazon has lots of other styles to choose from.
One of my sidekicks has the magnetic fridge organizer shown above and loves it. It has a shelf, a paper towel roll holder, and hooks to hang your frequently-used kitchen utensils.
This organizer has super-strong magnets to adhere to your fridge, washer, dryer, or any metal surface where you need extra storage! If you prefer to use it on a wall or door, it also comes with screws so you can mount it on any wall. Assembly is simple as it comes in two pieces that are attached together before hanging.
This model is a bit more than the spice rack version at $42, but it's such a great way to make use of otherwise wasted space and hold ALL of your kitchen essentials within reach.
Like the look of a white space-saver? Here are a couple of highly-rated options:
YAMAZAKI Home Plate Magnetic Spice Rack – White
YAMAZAKI Home Tosca Magnetic Spice Rack – White
Head here for more best selling home & kitchen products from Amazon!