Area Rugs
Area rugs are such an inexpensive way to change the look of any room no matter the size. Large area rugs, 8x10 or 9x12, can give your living room a whole new look, or use one to refresh your outdoor space. Smaller, 5x7 area rugs, are a great way to brighten up a small bedroom or even a front entry. Do you love certain area rug styles? We always share the latest trends including shag rugs, round area rugs, popular black & white styles, and even washable rugs!
---
What stores offer the best area rug sales?!
Score rugs on the cheap at these popular retailers. From
Walmart
area rugs to
Lowe's
,
The Home Depot
,
Target
,
Amazon
,
IKEA
, and
Wayfair
- we're sharing all of the hottest area rug sales and deals right here at Hip2Save!
---
The perfect rug is more than just an expense; it's the visual piece that really pulls a space together and gives you the look you ultimately want to achieve. Here's our how-to guide to finding the perfect area rug for your space.
---
1. Consider how your area rug is made and the materials used.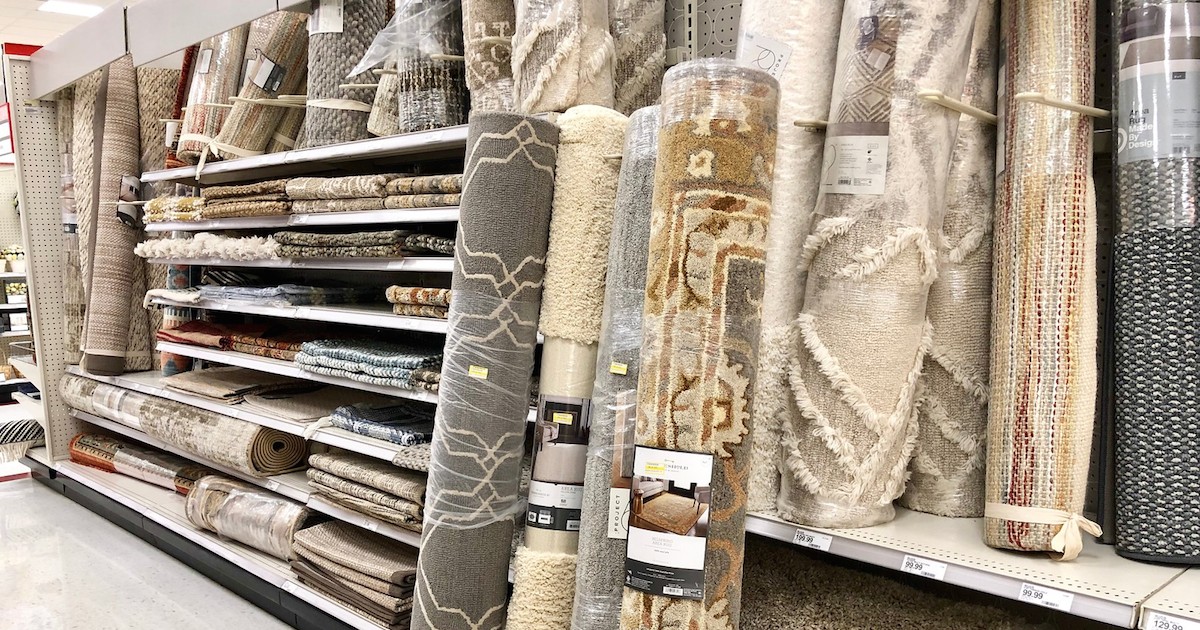 The best way to begin narrowing down your search is to consider
how your rug is made
and
the material
used. This is important for the durability and amount of traffic your rug will endure. Ultimately, the rug you end up with will also greatly depend on your budget since some materials are much more expensive than others. Let's talk about the different constructions and materials of rugs:
Different rug constructions:
Shag - A rug or carpet that has a deep pile, giving it a shaggy appearance.
Hand-knotted - Otherwise known as the "cream of the crop", these rugs are hand knotted on a special design loom and are generally the most expensive due to their labor-intensive techniques to achieve the end result.
Braided - A rug made of a long cloth braid wound around itself and sewn together to form a mat.
Flat-woven - Woven on a loom and without the pile or backing you'd find on knotted or tufted rugs. As a result, flat weaves tend to be lighter, more flexible, and reversible — since the pattern is the same on both sides of the rug.
Hooked - Made by pulling loops of yarn or fabric through a stiff woven base such as burlap, linen, or rug warp. The loops are pulled through by hand or on a machine through the backing material.
Outdoor - Have the look and feel you want on your floors with the durability you need outside. They are made from polypropylene synthetic fibers to resist moisture, stains, and fading.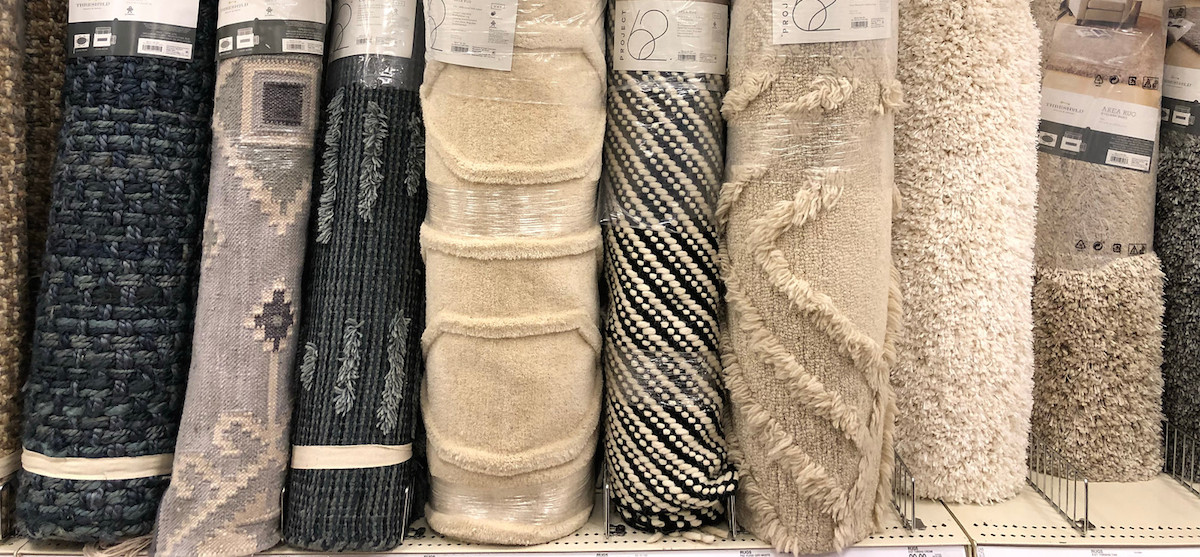 Different materials:
Cotton - A great budget-friendly option, cotton rugs are typically braided or flat weave and give a casual presentation. They are fairly durable and often can be machine washed.
Wool - Typically creates a thicker rug and is prone to pilling or shedding, wool also tends to be the most durable, perfect for high traffic areas. It also feels soft underfoot.
Jute - A good option for those who may be allergic to wool but still want great texture in appearance. This material is much more coarse under the feet and tends to absorb stains more easily.
Synthetics - Machine made rugs that tend to be made of materials such as Nylon, Polyester, and Olefin. These are the most common types of rugs due to their budget-friendly price tags and the ability to withstand high traffic.
Silk - The fibers in silk rugs create depth and give them a beautiful sheen, however, they do not tend to be very durable on their own and work well being layered with other rugs, such as wool.
Faux or Real Fur - These rugs give an exotic appearance to a room with their soft and fluffy or printed fur appearance giving the ability to bring chic or rustic vibes to your space.
---
2. Measure the size of your room before purchasing your area rug.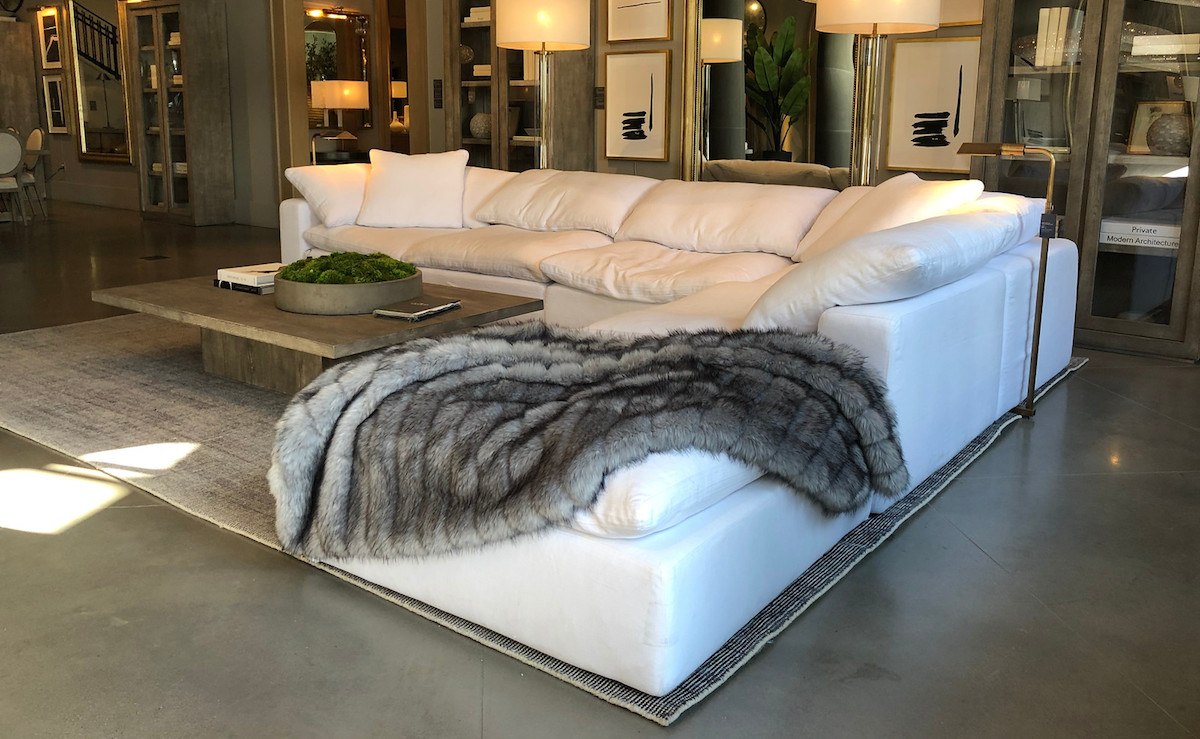 Now that you probably have a good idea of the type of rug and material you want, evaluate the space you are shopping for. Measuring your room will help determine the rug that will fit in your space perfectly. You don't want something so big to where it's almost touching the walls; on the other hand, picking too small of a rug will make your space look smaller than it actually is. The photo above is a great example of poor furniture placement or a rug that is too small for the pieces already in the room. Furniture should either fit comfortably on the rug with a border around the edges -- or all of the front legs of your furniture should rest comfortably on the edge. Slightly shifting furniture back, halfway off the rug, makes the space look larger. If you're unable to do this, your rug is most likely too big.
---
3. Think about what's already in your room.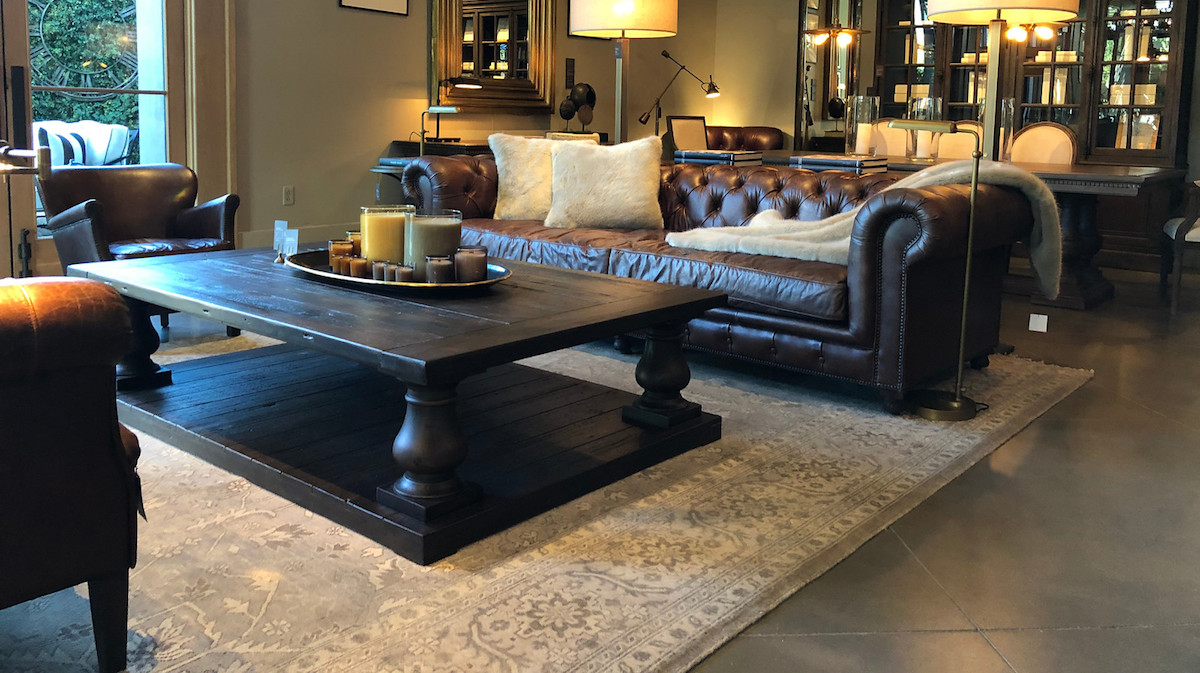 If you already have furniture pieces in your space, consider their colors. If your furniture pieces are darker, you will most likely want to choose a lighter rug to help lighten up your space. Another thing to take into consideration is the floor you'll be putting the rug on. You don't want something that will match it exactly; however, you'll want to make sure you're picking a color and pattern that will complement it well.
---
4. Choose the area rug style you're going for.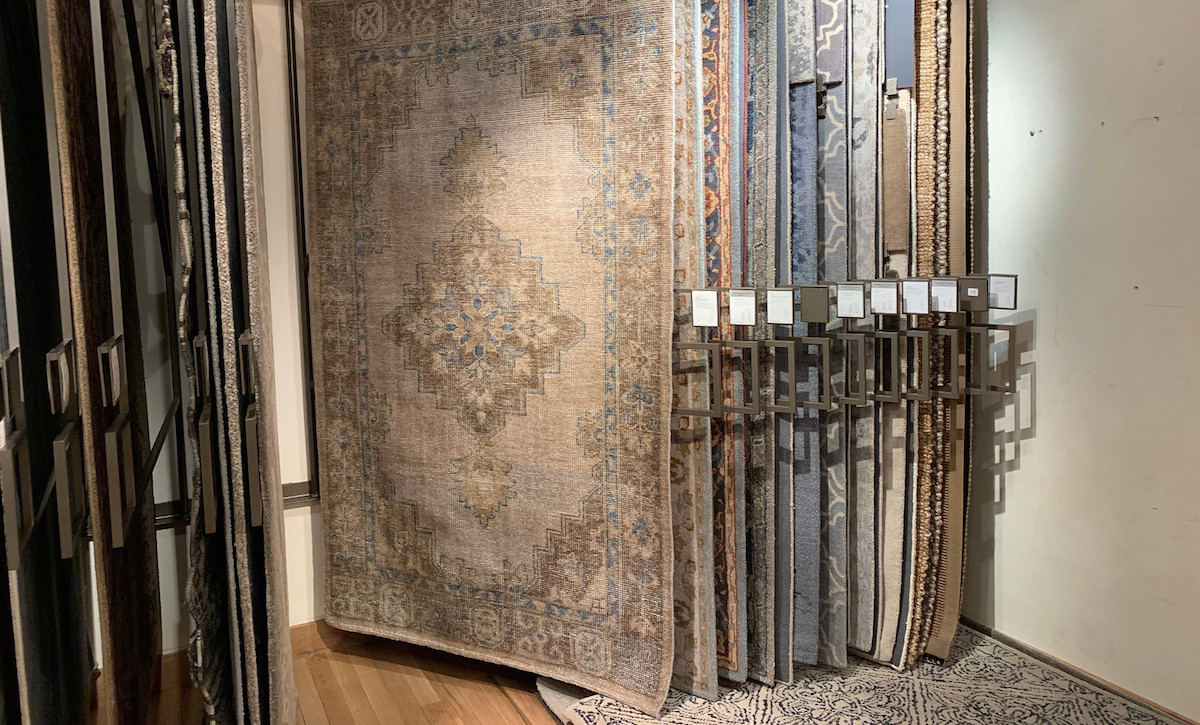 The finished look of your room with be greatly determined by the shape and style of the rug you choose. Knowing your design style is a key factor to create the ideal space for your home. The right rug will make a huge impact on a space and determine the direction and design of your space. Decide on the shape of the rug that will work best and then the style.
Different shapes of rugs:
Runners - Typically placed on stairs, long hallways, or in long kitchen spaces.
Rectangular - The most common style rug typically used in Bedrooms, Living Rooms, Outside, or anywhere really.
Square - Not the most common shaped rug to use; however, these tend to work perfectly in square-shaped rooms.
Circle - Typically used at the center of a room, these make a great focal point or pair well in dining rooms with round tables.
Oval - An untraditional alternative to using a rectangular rug, these have softer lines and can work in many different spaces.
There are an endless amount of styles when choosing a rug (it can almost be too difficult to choose)! However, if you already know your design style, you can probably start narrowing down what you're drawn to and what you don't like. Here are just some of the many styles to choose from.
Different styles of rugs:
Geometric
Striped
Solid
Moroccan
Vintage
Coastal
Ikat
Persian
Animal Print
Bohemian
Contemporary
Traditional
---
5. Make your area rug work for the long haul.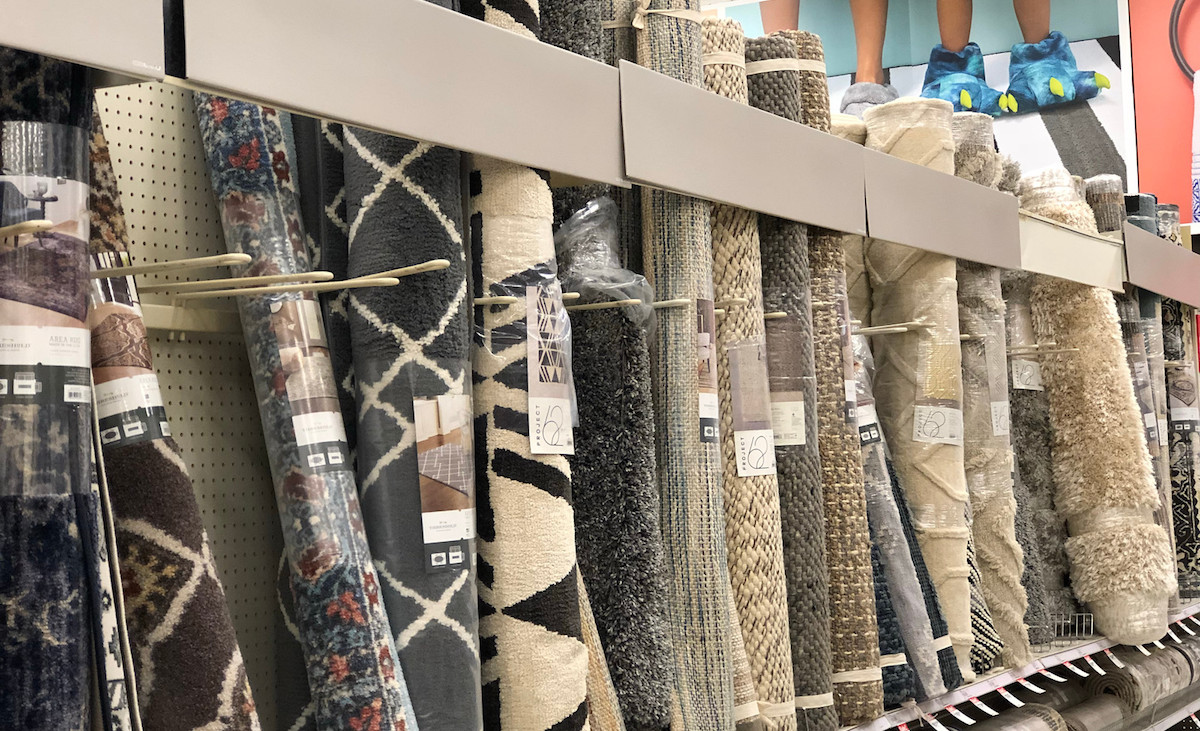 When looking for the perfect rug, be sure to also consider cleanability, durability, and whether or not you need a rug pad. There are benefits to each of these features and all will affect the longevity and life of your rug.
How well does your rug clean?
For homeowners with kids or pets, this is probably a very important factor when investing in a rug. Spills and messes are inevitable, therefore, you will want to make sure you have a rug that cleans easily and is less likely to stain. Choosing a rug that washes easily or can even be thrown in the wash might be ideal for busy homes.
How durable do I need my rug to be?
Rooms such as mudrooms, living rooms, hallways, and kitchens see a lot of foot traffic over time; therefore, you will want a material that is durable so that it will last longer. For rooms such as an office or bedroom, you won't need to worry as much about the durability since there tends to be less traffic.
Should I buy a rug pad?
Yes! Rug pads are recommended as they prevent dye transfer, marring, staining, and scratching to the floor or carpeting under the rug. Plus, pads create a softer feel when you walk on the rug and keep the rug in place, preventing it from slipping around.
---