Hobby Lobby Coupons & Sales
Looking for the best Hobby Lobby coupons?! You've come to the right place! Here at Hip2Save we not only share Hobby Lobby coupons (like their popular 40% off coupon), but we also share Hobby Lobby's up to 90% off clearance deals, weekly ad sales, & we'll keep you updated on their latest Black Friday deals.
---
If you're not familiar with Hobby Lobby, it's an arts and crafts store that sells
home decor
, fabric, holiday items,
faux florals
, in-house custom framing, party supplies, and more.
---
Check out these Hobby Lobby posts:
---
Craft and decorate your home on a budget at Hobby Lobby!
Hobby Lobby offers only one type of discount coupon (their famous 40% off Hobby Lobby coupon), but an endless amount of sales and clearance deals to help you save big on craft supplies, home decor, organization items, and much more!
---
We're sharing our top tips for shopping and saving BIG at Hobby Lobby so you can get the most bang for your buck!
---
1. Don't shop Hobby Lobby without their 40% off coupon.
Never, never, never
pay full price! Hobby Lobby always offers coupons for
40% off ONE regular price item
, valid in-store or you can apply the code
online
. To easily find the coupon, you can
print it from their website
or pull it up on the
Hobby Lobby Mobile App
and show it to the cashier at checkout.
---
Plus, if you're planning to purchase multiple regular-priced items, consider
printing off a couple coupons
and bringing your husband or family member along with you - the coupon is limited to one
per customer
,
per day
. That means you can shop there every day with a 40% off coupon if you want!
---
NOTE: The coupon always excludes Heidi Swapp Minc. Foil Applicator, CRICUT products, Gemini Machine Crafters Companion, Silhouette CAMEO Machine, candy & snack products, gum & mints, helium tanks, gift cards, custom orders, special orders, labor, rentals or class fees.
---
2. Shop the clearance aisles first.
The first place you should head when stepping foot inside the store is the famous
clearance aisle
. You'll find many discontinued and/or possibly damaged items
with discounts up to 90% off or more
! Items that are discontinued usually start off at 40% off, whereas damaged items can be 50 up to 90% off.
---
Depending on your store, they'll mark down the clearance aisle wall every 6-8 weeks an additional 40% off the current price. Big savings!
---
Hip Tip: To see if you're getting a good discount and/or how many times an item has been marked down, check how many clearance stickers are stacked on top of each other.
---
3. Check out the 50% off weekly sales.
Every week there are new sales throughout the store, anywhere from 30-50% off. To see what's on sale for 50% off that week, look for the ads at the front of the store, in newspaper circulars, on the website, and/or on the
Hobby Lobby Mobile App
.
---
Select categories in the
Home Accents, Framing, and Floral departments
go on sale 50% off every other week, meaning a 2-week rotation. If you miss a sale, it'll happen again soon.
---
When it comes to the other department sales, they generally rotate every 2-4 weeks. This is also true of the Floral and Framing departments, which means these departments are often 50% off.
---
---
4. Apply a coupon instead of a sale.
While you
can't
use a
40% off coupon
on a sale item, you
may
be able to use it instead of a sale price! So, if an item in the weekly ad is on sale for 30% off (i.e. - select crafts, yarn & needle art, etc.), you can ask a cashier to void the sale price and ring it up at full price. Then hand over a 40% off coupon, and you'll have saved yourself an additional 10%.
---
Check out what a Hobby Lobby customer rep told me -
Yes, you may request to use the 40% off coupon instead of the 30% discount on an item that is on sale. However our furniture is priced with a yellow "Your Price" tag and that is an exclusion on our coupon. So you would not be able to use the 40% off coupon instead of the 30% discount on furniture.
---
*This tip may vary by location and not all cashiers or managers may be willing to apply this policy. It never hurts to ask, though!
---
5. Don't shop on truck delivery day.
Each store gets one truck per week, so be sure to contact your local store to confirm which day they receive their truck deliveries. You may be tempted to shop on this day to see what new goodies hit the shelves, but keep in mind that the store will be crowded with boxes and loaded carts, and the employees will be in a rush trying to get the inventory on the shelves in a timely manner.
---
Although this will vary by location, rumor has it that Saturdays are generally the busiest day to shop, then Fridays, then Monday mornings.
Tuesday is calling my name!
---
6. Browse the competitor's ads before shopping.
Hobby Lobby 
DOES honor competitors' ads
in-store, but only if a specific price is listed in the ad
and
if they stock the exact same item (excluding Holiday doorbuster ads, Cricut, Silhouette, Sizzix, Cuttlebug, Simplicity & McCall's patterns, clearance, and closeout items).
---
However, they do NOT honor competitors' percent off ads/coupons, and you cannot use a 40% off Hobby Lobby coupon with a price match. Be sure to do the math to make sure you're getting the best price.
---
7. Save BIG on fabric purchases.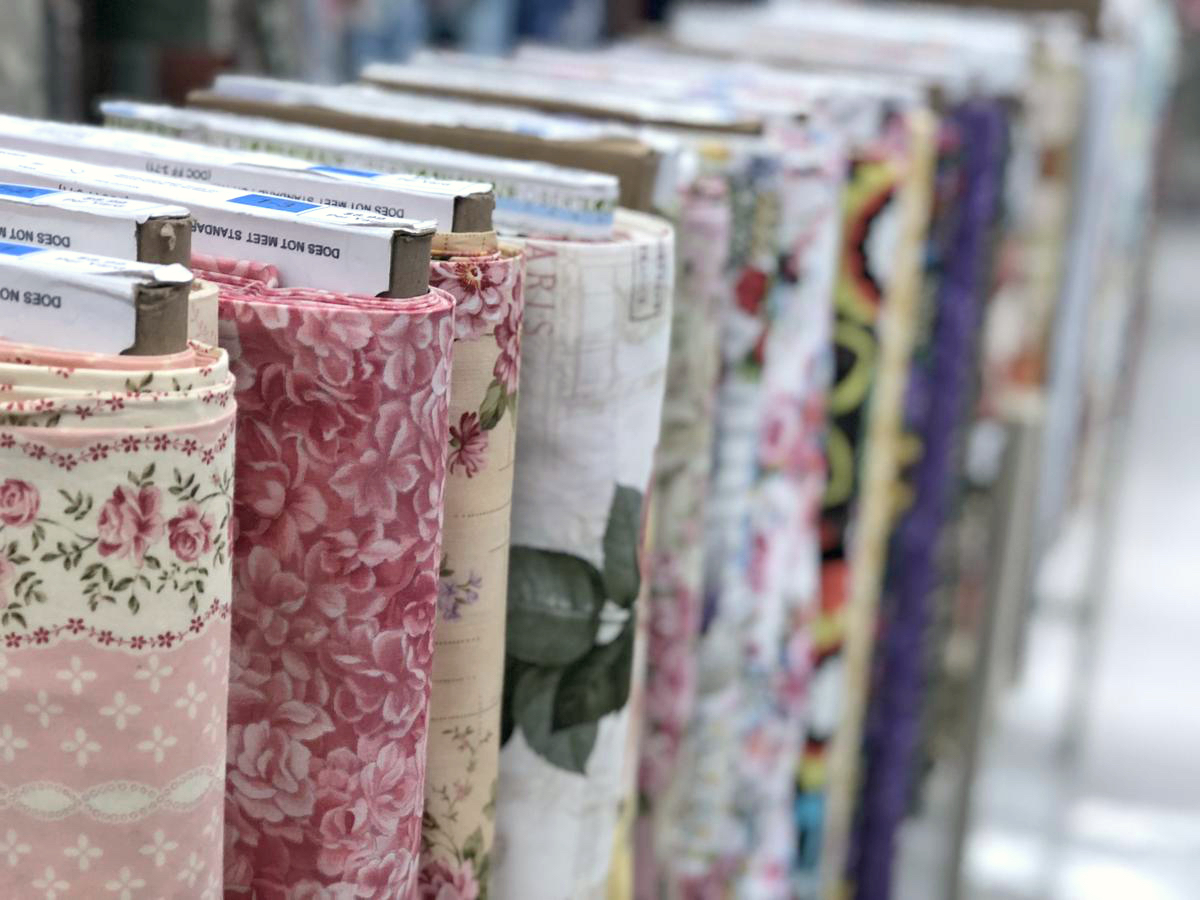 Fabric is always 30% off, but the best part about buying fabric is you can follow tip #3 above to
get 40% off your purchase
 – AND the coupon is actually valid for a single cut of fabric, up to 10 yards!
---
That means if you order 10 yards of a single fabric, the entire amount will be discounted 40% off. But if you order over 10 yards, the first 10 yards will be discounted, and the remainder will be full price.
---
Remember – since you can use one
40% off coupon
per person per day, consider making multiple trips or taking a few people with you until you have all the fabric you need for your project.
---
8. Ask for discounts on damaged items.
If you find a furniture item that's slightly damaged, you
may
be able to ask for an additional 10-15% off discount. Keep in mind that damaged items on the clearance wall are usually priced low because of the damage, but if you find an item that's not properly marked, you can politely ask for a discount.
---
9. Know when to shop for seasonal items.
When the seasonal items hit the shelves at
Hobby Lobby
, it isn't long before they go on sale. The major seasonal items (i.e. spring, summer, Easter, fall, and Christmas) start at 40% off and usually stay there or at 50% off until the holiday nears (with the exception of candy items which don't go on sale).
---
As the holiday draws closer, the discount will reach up to 50% off – with the exception of select items in the Christmas department, which usually reach 66% off several days
before
Christmas. After the holiday is over, these seasonal items go on clearance from 66% to 80%, and then eventually a whopping 90% off. Note that candy items only go on sale whenever they hit these clearance aisles.
---
For other minor holidays (including Valentine's Day, St. Patrick's Day, and Halloween), these items start on sale at 30% off and sometimes don't go any cheaper until
after
the holiday. If you're planning to purchase these items before the holiday, it's best to use a 40% off coupon instead of the 30% off sale.
---
Hip Tip: To get the most bang for your buck, plan to purchase holiday items for the next holiday season AFTER they've gone on clearance (that means possibly buying Easter items in June or Christmas items in January!).
---
10. Shop during Home Accents clearance events to get 90% off.
Twice a year,
Hobby Lobby
marks down their home accents items starting at 50-66% off and eventually reaching 80-90% off. Usually, the first sale starts after Christmas and reaches 90% off around February. The second sale starts around Mother's Day and reaches 80-90% off in late June or July.
---
11. Create a FREE account & wish list.
If you find items that you'd love to receive as a gift for Christmas, wedding, birthday, or special occasion, create a
FREE Hobby Lobby account
and add items to your wish list. You can then easily share your list with family and friends via email. Plus, by
signing up for an account
, you'll be the first to receive a Weekly Ad, special promotions, coupons, fun project ideas, and store news.
---
---
12. Keep your receipts for price adjustments.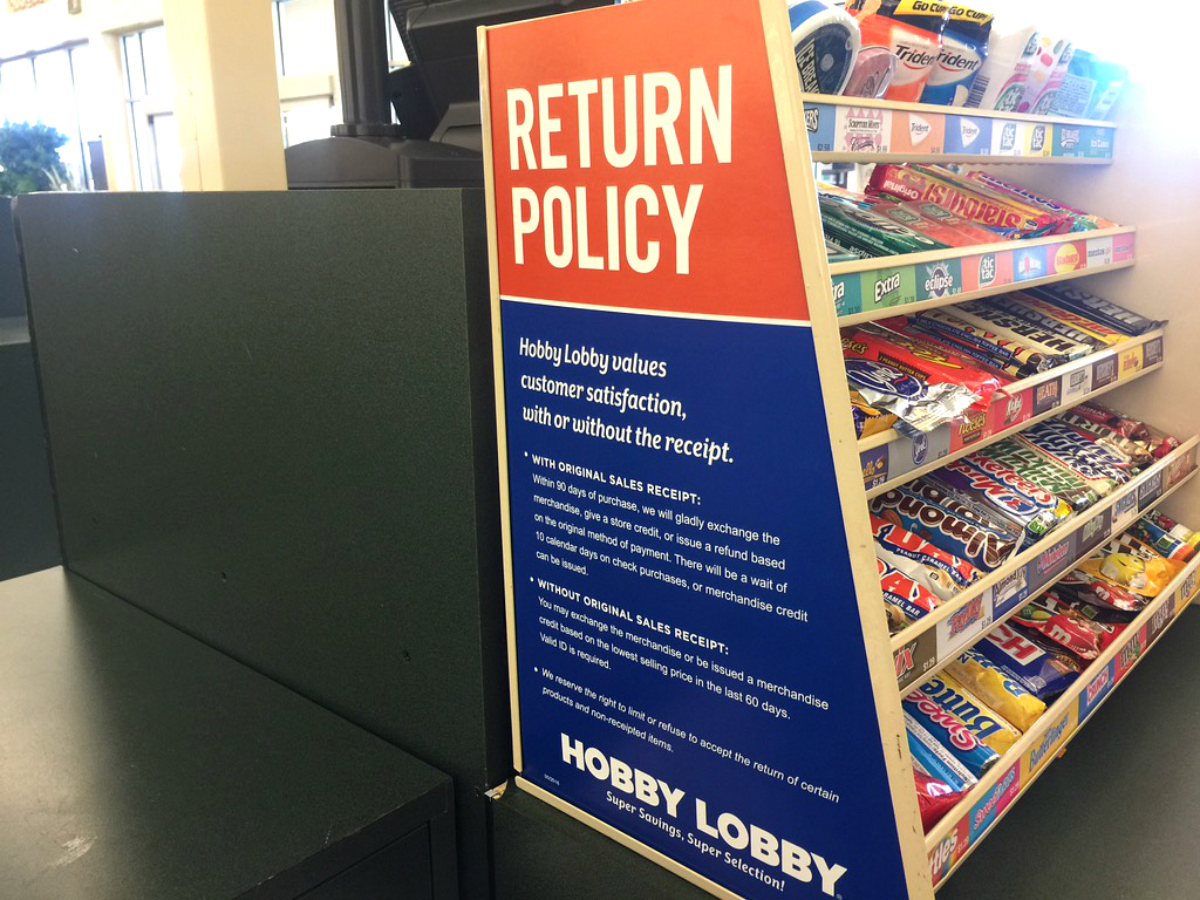 Hobby Lobby
has a 14-day price adjustment policy, so if you purchase an item and then it goes on sale within two weeks after your purchase, you can get an adjustment. BUT, you will need to return to the store WITH the item and the receipt within 14 days of the purchase to receive the adjustment.
---
Not satisfied with your purchase? With a receipt, Hobby Lobby will
gladly exchange the merchandise, give a store credit, or issue a refund
within 90 days of purchase, based on the original method of payment. Even without a receipt, you'll get a store credit for the lowest selling price in the last 60 days.
---
13. Save 10% if you're a charitable organization.
If you work for a school, church, or national charitable organization and are interested in purchasing items in bulk (T-shirts, crafts, bottled glue, etc),
Hobby Lobby gives a 10% in-store discount
for your entire purchase made with an organizational check or credit card – including sale items! Be sure to contact your local store manager in regard to obtaining this discount.
---
14. Earn points with the Rewards Credit Card.
If you shop at Hobby Lobby regularly, you may want to consider opening up a
Hobby Lobby Rewards VISA Credit Card
. With their
VISA Credit Card
, you'll earn five points for every $1 spent in-store or online (that's essentially 5%!) and one point for every $1 spent on groceries, gas, and anything else where VISA is accepted.
---
Even better, after activating your new account, you'll earn a one-time 1,000 point bonus
when you make a purchase with your VISA card within 90 days of opening your account. Every 2,500 points earns you a $25 Hobby Lobby Rewards Card!
Although there is no annual fee associated with this credit card, be sure to pay off your statement in full to avoid the high
15.24%
 to 
26.24%
APR.
---
15. Consider working where you love to shop.
If you're looking to earn a little spending money to shop at Hobby Lobby, you may consider
applying for a full or part-time job
doing what you love! In addition to not having to work on Sundays and stores closing at 8PM, employees
get an extra 15% discount
on top
of
all sales, clearance, and coupons!
---
And
, did you know that Hobby Lobby pays their full-time employees more than double the national minimum wage rate of $7.25/hour? Currently, the
minimum wage for hourly and full-time employees
is at least $15.70 per hour and $10.45 per hour for part-time employees. Not too shabby!
---
Want more? Check out these gorgeous & trendy home decor themes from Hobby Lobby!